Synopsis
Kelly reluctantly seduces a beautiful Soviet major in order to acquire a valuable manuscript sought by a trio of Russian exiles.
[Location: Italy]
French title: Le cadeau d'Alexandr
Italian title: Un dono da Alexander
Guest Stars
Anna Karina (Alina), Michael Constantine (Plotkin), Jay Novello (Krauss), Laurie Main (Luchesi), Alan Oppenheimer (Benkovsky), Edra Gale (Caramilla), Patrick Patronica (Salvatore)
Written by
Barry Orringer
Directed by
Alf Kjellin
Original Airdate
12 October 1966
Want to review or rate this episode?
Send all submissions to ispy65@lycos.com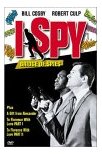 Currently available on DVD
(UPC: 14381983128)
Review
While lounging about Venice waiting for their next assignment, Kelly and Scotty are stalked by a trio of Russian exiles who want Kelly to seduce a beautiful Soviet major, Alina, who has in her possession the "Plotkin Manuscript" -- an unpublished novel of apparent propaganda value. When they discover that the three Russians are a swindler, a black marketeer and an assassin, the guys are suspicious of their true motives. But The Department wants the manuscript, so Kelly must go through with the seduction -- a task he finds distasteful, as Alina turns out to be a romantic young woman somewhat naive in matters of the heart. He acquires the manuscript, only to discover that its only value lies in the priceless necklace concealed within.

A Gift from Alexander has some effective moments -- and some glaring weaknesses. Robert Culp plays the reluctant seducer just right, and Anna Karina is beguiling as his victim. It's a nice twist to see Kelly and Scotty working with their Soviet counterpart Benkovsky, ably portrayed by Alan Oppenheimer, in foiling the scheme of the Russian criminals. The trio, though, are played entirely too tongue-in-cheek by Michael Constantine and associates, and that clashes with the sincerity of the scenes involving the Kelly-Alina relationship. The interior sets are prosaic and the fight scenes are performed without much style or pizzazz. All in all, this is a lightweight entry.