Synopsis
In order to safeguard an expert on underground nuclear explosions, Scotty must investigate an old friend, and recruits the man's sister to help him.
[Location: Las Vegas, USA]
Guest Stars
Malachi Throne (John Keegan), Billy Gray (Gershon Stutman), Nancy Wilson (Lori), Greg Morris (Jim Rogers), Frank Maxwell (Paul Landon), Patty Regan (Stella Stutman), Logan Field (Joe Willis), Kathryn Minor (Little Old Lady), Owen Bush (Man #2), Donna Michelle (Millicent), John Goddard (Donald Forman), Charles Alvin Bell (Man #1), Lou Elias (Parking Attendant), Charlene Jones (Judy)
Written by
Paul Wendkos
Directed by
Paul Wendkos
Original Airdate
21 September 1966
Want to review or rate this episode?
Send all submissions to ispy65@lycos.com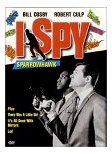 Currently available on DVD
(UPC: 14381982923)
Review
The Cadre is a group of six men specially trained by The Department to be experts in detecting underground explosions. The problem is that five of them are dead -- one gets knifed in the back at a Paris disco while sitting at a table with Kelly and Scotty. Just so happens that the chief suspect is Scotty's old college chum Jim Rogers, who was busted out of The Cadre. The guys try to find Jim through his sister Lori, a lounge singer in Vegas, while attempting to keep the last member of The Cadre, John Keegan, alive. They use a phony codebook to smoke Jim out, right before he gets killed by the real villain, Mr. Keegan, who's a KGB mole. Turns out Keegan has been blackmailing Lori into serving as his courier, and Jim is trying to get her off the hook by producing the codebook. Keegan knows right away that it's a phony and kills Jim, after which Scotty puts him out of business.

Scott certainly seems to have a weakness for troubled singers -- remember Angel in "The Loser"? Lori is a recovering alcoholic, but she's still a mess. The episode itself could have benefited from a little cleaning up, too. The talents of Greg Morris (who was about to embark on a long stint as a member of the IMF in Mission: Impossible) are not much utilized here; more time could have been spent fleshing out what might have been a fascinating character. As it is all we have are glimpses of a tortured soul, i.e. his almost pathological desire to "kill somebody" after he accosts our heroes and has them at his mercy. Nancy Wilson spends most of her time singing or crying (and she's much better at the former than the latter.) The pace is much too slow and Keegan's explanation for his success in blackmailing Lori is not very credible. What is credible is Cosby's finely nuanced performance. Most of the scenes are filmed on set, but the final, exciting chase takes place at Hoover Dam, and the closing piece, in which the guys are robbed of their slot machine winnings by an elderly woman, is amusing.