Synopsis
Scotty and an American girl who is part of an anti-American faction in Rome are encouraged to cultivate a relationship by their respective sides.
[Location: Rome, Italy]
Guest Stars
Leslie Uggams (Tonia), David Opatashu (Zugman), Ronald Feinberg (Cesare), Michael Gualon (Mortoni), Larry Anthony (Leon), Bob Lowell (Tourist), Jan Lowell (Tourist), Leopold Trieste (Creep), G.D. Spradlin (Blair), Frank Mechera (Speaker), Paris Pavrich (Waiter), Daniella Musulardi (Tourist)
Written by
Michael Zagor
Directed by
Alf Kjellin
Original Airdate
4 January 1967
Want to review or rate this episode?
Send all submissions to ispy65@lycos.com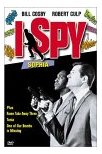 Currently available on DVD
(UPC: 14381983227)

VHS
Review
A top-notch episode that clicks in every respect. Seemingly by happenstance, Scotty meets and falls for Tonia, an American-born black woman who's lived most of her life in Italy, and who has fallen prey to Communist propagandist Rudy Zugman. Zugman encourages Tonia to cultivate a relationship with Scott. Little does Tonia know that she's a pawn in a sinister game of revenge. Zugman arranges for Tonia to be murdered, and the evidence points to Kelly Robinson. You see, Zugman blames Robinson for corrupting his daughter Dina, who left her father to live in America. This is his chance not only to wreak vengeance, but also to destroy one of the enemy's top team of agents. Suddenly Kelly is on the run, with the police and his own partner hot on his trail.

Very rarely did I SPY dwell on the racial aspects of the two leads. Here, though, it's brilliantly utilized by scribe Michael Zagor, whose script is taut, intelligent and full of surprises. Zagor manages to pack not only a classic tale of espionage and a love story into a 52-minute episode, but laces it with an intriguing backstory, as well -- the history between Robinson and Zugman -- as well as a touching subplot, the unrequited love Cesare has for Tonia. Leslie Uggams is adequate as Tonia, but David Opatashu makes of Zugman one of the most memorable villains of the series -- all the more so because he disguises his ruthless brilliance behind a mild, professorial facade. Ronald Feinberg deserves kudos as well; the hulking, somewhat dim-witted Cesare could have been rendered a stereotype, but Feinberg, with very little dialogue at his disposal, somehow creates a character of surprising insight and integrity. At this point in the run of the series it's a telling point that Culp and Cosby saw no need to ad-lib their way through any scenes; clearly they both knew they had a story that deserved to be played as written.