Synopsis

Kelly and Scotty compete with the Soviets to recruit an eccentric Spanish professor who has developed a theory crucial to missile defense.
[Location: Spain]
French title: De Seville a Madrid
Guest Stars
Boris Karloff (Don Ernesto Silvando), Carl Schell (Horst), Axel Darner (Kurt), Mona Hamlin (Maid), Eduardo San Jose (Policeman #1), Scott Miller (Guard), Felipe R. Armengoi (Policeman #2), Angel Jordan (Guard), Antonio Canal (Guard)
Written by
Morton Fine & David Friedkin
Directed by
David Friedkin
Original Airdate
22 February 1967
Want to review or rate this episode?
Send all submissions to ispy65@lycos.com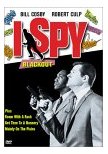 Currently available on DVD
(UPC: 14381983425)

Review
Don Ernesto Silvando is a somewhat absent-minded and exceedingly eccentric professor from the University of Madrid, who carries in his mind knowledge of earth-shattering consequences. Kelly and Scotty's job: befriend Silvando and persuade him to share his knowledge with the West. Their competition: a boorish and dangerous East German agent named Horst. What makes the assignment even more complex is the fact that Silvando is obsessed with Don Quixote de la Mancha; in fact, during their journey from Seville to Madrid, Silvando recruits our reluctant heroes into various comical adventures -- such as attacking windmills, a la Don Quixote. But the adventures become far more perilous when Horst reappears intent on killing the American agents and forcing Silvando through torture to reveal his secrets.

Mainly on the Plains has a lot going for it -- it is filmed entirely in Spain, the score by Earle Hagen is one of the finest the series has to offer, and Boris Karloff was an inspired choice to play Don Ernesto, a man whose outlook on life -- incorporating integrity, honor, courage a code of chivalry that is, sadly, antiquated -- stands in stark contrast to the deceit and doublecross that mark the Cold War. Cosby and Culp are in rare form as they ad-lib their way through the episode. But the scenes in which our guys clash with Horst, played with excessive melodrama by Carl Schell, lack flair. Schell's Horst is too cartoonish to be very menacing, and one has to wonder just how important the enemy deemed Silvando to be when the man posted to guard Don Ernesto and our heroes prefers strumming on a guitar to keeping them covered with his light machinegun. There are some continuity problems, as well -- Scott complains that Silvando set six criminals free after waylaying the police paddy wagon, when clearly only five went over the hill. And why were Kelly and Scotty escorting Silvando halfway across Spain without their weapons? Because so little attention was paid to the cloak-and-dagger aspects of the plot, Mainly on the Plains falls just shy of being a classic episode.