Synopsis
When Kelly wakes up with a dead Russian ballerina in his bed, he and Scotty must reconstruct the past few hours to find out who killed her, and why.
[Location: Spain]
French title: L'espion et la ballerine
German title: Die Primaballerina
Guest Stars
Zohra Lampert (Zili), Lawrence Dane (Benkovsky), Alan Oppenheimer (Boris), Lou Krugman (Inspector), Shep Saunders (Tough), Jose Maria Cafferel (Taxi Driver #1), Tito Marsell (Flamenco Dancer), Pete Sotos (Julio), Andreas Montreal (Taxi Driver #2), James Victor (Hernando), Rudy Kovar (Carlo), Poupee Gamin (Lita), Victor Israel (Taxi Driver #2)
Written by
Barry Oringer
Directed by
Alf Kjellin
Original Airdate
8 March 1967
Want to review or rate this episode?
Send all submissions to ispy65@lycos.com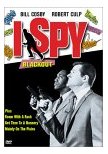 Currently available on DVD
(UPC: 14381983425)
Review
Kelly Robinson comes to in a rundown hotel room in Seville and discovers that the lovely Russian ballerina Zili Markova has been murdered -- and it looks like he did it! His assignment was to "cultivate" Zili in order to learn the identity of a Soviet spy in her ballet company. Now he and Scotty have a much more urgent job to do -- they have one day to prove to the satisfaction of KGB Col. Ivan Benkovsky that Robinson is innocent. Suffering from drug-induced amnesia, Robinson puts the previous 24 hours together, piece by piece, and with Scotty's help lures the real murderer into a trap.

Blackout starts out in striking fashion, with intermittent sounds -- water running from a faucet, a man sweeping a sidewalk, a burst of applause -- interspersed with an ominously dead silence and skewed camera angles as Robinson regains consciousness and finds Zili dead. But such artistry cannot long disguise the fact that this is an all-too-conventional tale: A man accused of a crime he didn't commit in a race against time to prove his innocence. Director Alf Kjellin does the best he can with such time-worn material; the flashback scenes, as Robinson slowly puts the pieces together, are nicely done, with a touch of the surreal and plenty of murky shadows concealing who-knows-what unseen peril. Alan Oppenheimer reprises his role as Benkovsky, introduced in "A Gift from Alexander", and it's interesting to see Kelly and Scotty allied with this worthy adversary in the episode's climax, when the real murderer, the colonel's associate, is exposed. And Zohra Lampert is perfect as the ill-fated Zili -- she is both beautiful and vulnerable. There are several amusing scenes, including the assistance rendered to our heroes by a trio of extremely long-winded carriage drivers, and Scott's sly comment about wanting to see Sidney Poitier in a spy picture to get an idea what he would look like if he was in film. Plenty of great location shots also give "Blackout" a leg-up; all-in-all, its an episode with enough assets to lift it above its mundane premise.