Synopsis
Kelly and Scotty run into more trouble than they'd bargained for when they try to help an agent who rescues kidnapped Greek children from a Communist country.
[Location: Casablanca & Greece]
French title: Les enfants de l'exil
Guest Stars
Harold J. Stone (Zarkas), Eduardi Ciannelli (Charamboulis), Paris Alexander (Andreas), John Aniston (Economides), Anna Brazzou (Phyllida), Sandra Gould (Diane), Bill Henry (Wechsler), Chuck Myers (Border Guard), Giuseppe Paganelli (The One Above), Michael Preece (Border Guard), Bill Quinn (Carson)
Written by
Berkely Mather
Directed by
Earl Bellamy
Original Airdate
18 September 1987
Want to review or rate this episode?
Send all submissions to ispy65@lycos.com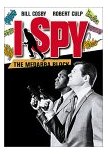 Currently available on DVD
(UPC: 14381983623)
Review
Robinson and Scott are assigned the task of helping an agent named Andreas get across the Iron Curtain to freedom. But first they must shake a team of enemy agents who have them under surveillance in Casablanca. Once this is accomplished, they are joined by the Greek operative Zarkas (who will reappear in "Philotimo" and "The Seventh Captain") and an old ex-smuggler by the name of Charamboulis in their efforts to sneak Andreas across the Greek-Bulgarian border. This isn't an easy task, since Charamboulis seems determined to sabotage their efforts. As it turns out, Andreas is his son, and Charamboulis suspects that he is a traitor now working for the Communists. Andreas has been involved in an operation to free The Beautiful Children -- Greek kids abducted by the Communists and put in state schools for brainwashing. Once Andreas is rescued, Charamboulis is prepared to kill his own son to salvage the family honor; instead, the two are reconciled.

An entertaining but uneven espionage tale, this episode starts out strongly, with Kelly and Scotty engaging in some wily subterfuge to shake the enemy agents tailing them in Casablanca. But once they arrive in Greece it's all downhill. One of the remarkable things about the series is that production values generally remained quite high despite the tribulations inherent in filming on location all around the world. In this case, though, those production values are flawed. Some of the dialogue is muffled, and one of the "night scenes" was clearly shot during the day, with someone forgetting to put the right lens on the camera. This is a lot of story to cram into 51 minutes, so one has to pay close attention, as crucial facts are explained once, if at all. There are some unanswered questions; Why did Charamboulis's associate try to run at the border checkpoint? (He ended up being killed by the Bulgarian soldiers.) And why did all the border crossing have to be undertaken directly under a watchtower? On the plus side is "The One Above" -- an associate of Zarkas, and the best shot in all of Greece, whose job is to watch Zarkas's back; he's so committed to that task that he rides backwards on a mule as Zarkas and our guys make for the border utilizing four-legged transportation. It's a nice, comical touch.