Synopsis
Kelly and Scotty are assigned to locate an enemy base on the Greek-Yugoslav border that is interfering with American flights -- a mission complicated by a Greek who thinks Kelly has sullied his daughter's honor.
[Location: Greece]
French title: Une questions díhonneur
Guest Stars
Roger C. Carmel (Pappas), Louise Sorel (Stephanie), John Qualen (Hannos), Andrea Teuber (Nikos), Charles Horvath (Menace), Dave Armstrong (Technician #1), George Van Wort (Technician #2)
Written by
Oliver Crawford
Directed by
Christian Nyby
Original Airdate
30 October 1967
Want to review or rate this episode?
Send all submissions to ispy65@lycos.com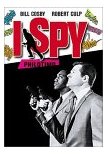 Currently available on DVD
(UPC: 14381983722)
Review
Kelly and Scotty show up at a quaint Greek village near the Yugoslav border, ostensibly to partake of a little fishing and the reverie attending an annual wine festival. In actuality, they're on assignment -- to locate and destroy a secret enemy base that is somehow interfering with the navigational equipment aboard American warplanes, with the result that the planes are crashing into the sea. The assignment is a relatively easy one for our guys -- they locate their target by asking a local girl if she's seen anything unusual, and gain entry into the house where the base is located by mingling with a crowd of drunken Greek revelers, after which some strategically placed thermite bombs destroy the base. As it turns out, though, an enemy base is the least of the guys' problems. Seems the mayor of the village has waited two years to kill Kelly, whom he believes dishonored his beautiful daughter during a night in a barn. Kelly swears nothing happened -- but even Scotty finds that a little hard to believe.

Another of the light-comedy episodes that appears to have been shot entirely on a Hollywood backlot, Red Sash of Courage is a cut above the rest thanks to the comedic talents of both Culp and Cosby. in full display here. They make every scene a joy to watch, and it's often in the little things -- watch Scotty trying to plug a bullethole in a wine cask while Kelly is striving to fend off the saber-wielding Pappas, played in a broad, slapstick vein by Roger C. Carmel, who's perfect for the part. The way in which Kelly and Scotty resolve the Pappas problem is, as usual, sly and unexpected -- and effective. The same could be said for the entire episode.