Synopsis
Kelly and Scotty have to find out what connection exists between a Greek colleague and the mysterious disappearance of six other agents.
[Location: Greece]
French title: Le septième capitaine
Guest Stars
Harold J. Stone (Zarkas), Nick Dennis (Kostas), George Economu (Gronow), Robert Patten (Agent Y), Jack Stany (Lexae), Rita Moussouri (Madam Kyracua), Miklos Pashalipis (Peddler)
Written by
Berkely Mather
Directed by
Earl Bellamy
Original Airdate
13 November 1967
Want to review or rate this episode?
Send all submissions to ispy65@lycos.com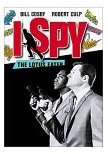 Currently available on DVD
(UPC: 14381983821)