67. Oedipus at Colonnus

Synopsis
Kelly and Scotty encounter an aging Arab holy leader who is, apparently, assassinated while attending an important meeting.
[Location: Morocco]
French title: Oedipe à Colonne
Guest Stars
Maurice Evans (Jahbad), Delia Boccardo (Perizadah), Fouad Said (Mousa), Ken Tobey (Conway), Marne Maitland (Dr. Soenbawa), Milton Reid (Aba'ahman), Arthur Batanides (Heavy #1), Frederick [ Screlmer (Samui), Barry Shanzin (Hassan)
Written by
Marion Hargrove
Directed by
Christian Nyby
Original Airdate
27 November 1967
Review
Kelly and Scotty are in Morocco, searching high and low for evidence to substantiate Conway's suspicion that there's a plot afoot to instigate an Islamic Jihad. They don't have much luck until, quite by chance, they see The Jahbad in a Marrakesh bazaar. The Jahbad is one of the most radical of Muslim leaders; he was thought to be languishing in a British jail. Conway orders them to kill The Jahbad; instead, Kelly and Scotty are captured, and their assistant, an agent of the Royal Moroccan Intelligence Service (played by director of photography Fouad Said), is killed. They wonder why they don't meet the same fate, especially when, with the help of The Jahbad's lovely granddaughter, Perizadah, they escape, only to be captured a second time. It turns out that The Jahbad wants them alive, to serve as witnesses to the culmination of an elaborate plot he has devised in order to wreak vengeance upon those who he believes betrayed him to the British many years before.

This episode is blessed with an extremely intelligent script penned by Marion Hargrove, not to mention the scenery of Marrakesh, Morocco. It is further blessed by the splendid acting of Maurice Evans and Delia Boccardo. And it has a humdinger of a surprise ending. But this is one time when the glib, off-the-cuff repartee of Culp and Cosby detract from what could have been a superb dramatic entry; it's hard to take any of it seriously when evidently Kelly and Scotty don't. It's ironic, as their banter sometimes masked story deficiencies in other episodes. There are no deficiencies in this particular story, however. Delia Boccardo's Perizadah is potentially one of the best female characters in the series -- beautiful, highly educated, mysterious; it's a shame she didn't get more screen time. But then, Hargrove's plot is elaborate, and most of it has to be conveyed through dialogue, and that takes time. The boys look quite incompetent, as they are captured not once but twice, but we learn at the end that this was designed by The Jahbad to keep them occupied while he saw his scheme through to the end. This is the best of the three Moroccan episodes -- but then the competition isn't very stiff.





Want to review or rate this episode?
Send all submissions to ispy65@lycos.com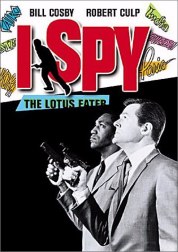 Currently available on DVD
(UPC: 14381983821)