78. The Name of the Game

Synopsis
While checking security arrangements for the visit of a VIP, Kelly and Scotty become the prey in a deadly game of hide-and-seek with a fanatical general.
[Location: Mexico]
French title: Chasse gardée
Guest Stars
Lloyd Nolan (Manion), Jorge Russek (Raul), Barbara Angely (Tracy), Guillermo Hernandez (Ignacio), Marco Antonio Arzate (Manuel), Juan Garcia (Fernando), Ken Tobey (Conway)
Written by
Jerry Ludwig
Directed by
Earl Bellamy
Original Airdate
11 March 1968
Review
A Very Important Person is about to pay a visit to a retired American general named Manion, who has an estate along the coast of Mexico, and Kelly and Scotty are given the task of checking the estate's security in advance of that visit. What they discover is that Manion is an embittered and unbalanced man -- he despises the bureaucracy that, in his view, prevents the U.S. from taking action against its global enemies. When our heroes try to warn the VIP against visiting Manion, their host, a big game hunter by avocation, makes them the prey in a bizarre game of hide-and-seek.

It seems that every adventure series in the Sixties had an episode like this -- and certainly by 1968 it had become one big, tired, old cliche. Veteran star of stage and screen Lloyd Nolan does a credible job portraying the fanatical General Manion, but just about everything else in this episode lacks luster. The opening sequence, with Kelly and Scotty being "arrested" so that they can make contact with their handler, Conway, is completely gratuitous, while the scenes in which our guys are hunted by Manion and his minions (sorry, couldn't resist) lack tension; as we'd expected all along, Kelly and Scotty make pretty short work of both the general and his men. The final fight scene contains one of the most egregious continuity errors in the series: after killing Manion's right-hand man in a machete fight, Kelly tosses away the weapon -- only to appear in the very next scene with the machete still in hand. Still, the glib repartee between the guys while they're being tracked through the brush, and the way in which they turn the tables on their adversaries, is entertaining enough.




Want to review or rate this episode?
Send all submissions to ispy65@lycos.com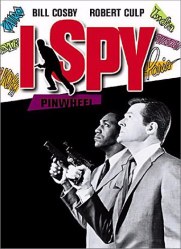 Currently available on DVD
(UPC: 14381984224)