70. Home to Judgment

Synopsis
Running for their lives from ruthless killers, Scotty and a wounded Kelly seek refuge on a farm belonging to the latter's aunt and uncle.
[Location: USA]
French title: Une réunion de famille
Guest Stars
Will Geer (Uncle Harry), Una Merkel (Aunt Alta), Robert Donner (Mailman), Bob Sampson (Cowboy), Walter Coy (Sheriff Homer), Michael Preece (Phantom #1), Allen Pinson (Phantom #2), Gene Lebell (Man)
Written by
Robert Culp
Directed by
Richard C. Sarafian
Original Airdate
8 January 1968
Review
A fan favorite, and rightly so; Home to Judgment is without question one of the classic episodes of the series. There are many reasons why this is so. First, there's Robert Culp's writing which, as always, is intelligent, insightful and nuanced. Then there's Richard Sarafian's direction, which is inspired, giving us a taut and thrilling 51 minutes with an explosive, gut-wrenching conclusion. Add in some superb acting, not only by Culp and Cosby, but also that fine character actor Will Geer, and what you have is something that soars into the realm of art, several cuts above your typical TV fare -- not just for the Sixties but any decade since the "tube" was invented.

On the run from a bunch of the most menacing killers in television history -- and they're all the more menacing because they are seldom seen, deadly shapes circling the farm like vultures -- Scotty and an injured Kelly are in as tight a spot as any we've ever found them in. But the real drama lies in Kelly's unwillingness to bring the ugliness of his line of work into the scene of one of the few good memories he has from a childhood fraught with heartbreak. In this episode, more than any other, we catch glimpses of the inner Kelly Robinson, a side of the man usually well-shielded by that ne'er-do-well facade. And yet, though the opportunity to do so is present, Home to Judgment does not lapse into the melodramatic or the maudlin. If there is a flaw it's in the rather typical ploy of making the audience believe that Scotty has been seriously wounded -- if not killed -- by Cowboy, the most lethal of the gang of killers; yet in the closing scene, as our guys walk away from the farm, Scott seems to be perfectly well. Nitpicking aside, I Spy never got any better than this.




Want to review or rate this episode?
Send all submissions to ispy65@lycos.com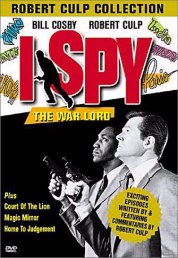 Currently available on DVD
(UPC: 14381984323)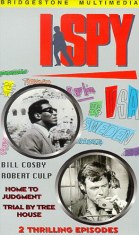 VHS 1563714515