75. Turnabout for Traitors

Synopsis
Kelly teams up with a thief to prove himself innocent of espionage charges leveled against him by a British agent.
[Location: Mexico]
French title: Requiem pour un traitre
Guest Stars
Peter Donat (Hampton), Jose Chavez (Gosa), Andreas Garcia (Tomas), Michael Strauss (Randolph), Rodolfo Hoyos (Proprietor), Regina Torme (Elena), Ross Elliott (Mate)
Written by
Ernest Frankel
Directed by
Earl Bellamy
Original Airdate
19 February 1968
Review
Kelly Robinson is on the run again. This time he has been accused of treason, and set up very nicely, thank you, with a pocketful of money, some incriminating photos, and transcripts of phone conversations that seem to link him with a Soviet spy ring that has wrought havoc upon the British espionage network in Mexico. Teamed up with a wily thief named Gosa, Robinson sets out to prove he's been framed, if he can elude the knife-throwing Tomas and the seductive Elena long enough to get the job done. As it happens, the frame-up is the brainchild of Hampton, Britain's top spy in Acapulco; he sold out his own people and tried to make it look like Kelly was the culprit. Can Kelly and Scotty distinguish between friend and foe and win the game when the other side holds all the cards?

With the likes of Ernest Frankel as writer and Earl Bellamy, one of I Spy's most experienced directors, behind the camera, one would think "Turnabout for Traitors" has a lot going for it. But a viewer deserves forgiveness for thinking he or she has seen it all before. Kelly wounded and on the lam in Mexico, aided by one of the locals? See"Bet Me A Dollar." And the ending, with Scotty and the bad guys running around Pascuaro looking for Kelly, is a bit implausible. Tomas doesn't seem to recognize Scott (though he's seen him before) and Scott doesn't seem to know Randolph from Adam (though he's seen a photo of Randolph with Kelly.) On the plus side, Jose Chavez gives a bravura performance as Gosa, Kelly's loyal if light-fingered ally. And the on-location scenery is a big plus.




Want to review or rate this episode?
Send all submissions to ispy65@lycos.com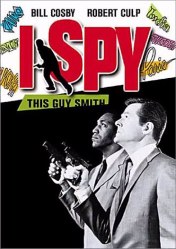 Currently available on DVD
(UPC: 14381984026)