Synopsis
Elroy Brown, an embittered American athlete, has defected to China. Kelly and Scotty are assigned the task of bringing him back, only to uncover a Red Chinese plot to use Brown in expanding their influence in Africa.
[Location: Hong Kong]
French title: Salut Patriote
Italian title: Ciao Patrick Henry!
Guest Stars
Ivan Dixon (Elroy Brown), Cicely Tyson (Princess Amara), Richard Loo (Mr. Tsung), Tiger Joe Marsh (Chinese Bodyguard), Rickey Der (Mickey), John Lassell (Mr. Laswell), James Hong (Mr. Shaw), Nick Colasanto (Reporter), Alex Finlayson (Mr. Redding), James Shen (Driver #1), Harold Fong (Driver #2), Gerald Jahn (Interpreter), John Livingston (Speaker)
Written by
Robert Culp
Directed by
Leo Penn
Original Airdate
15 September 1965
Want to review or rate this episode?
Send all submissions to ispy65@lycos.com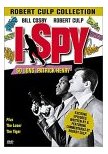 Currently available on DVD
(UPC: 14381984323)
VHS
Review
The first episode of I SPY (the first aired; "Affair in Tsien Cha" was actually the pilot) benefits from an intelligent (if talky) script by Robert Culp and the immediately apparent chemistry between the two stars, not to mention on-location filming in Hong Kong. That's where Kelly and Scotty go to find out if American athlete Elroy Brown, a traitor to his country who has defected to the People's Republic of China, wants to come home. Complicating matters is Scott's antipathy towards Brown, whom he had met a year before in Tokyo; Brown had poked fun at Scott's patriotism then, calling him "Patrick Henry." Turns out that Brown isn't happy with his situation, and is seriously considering returning to the United States. His Chinese handlers, though, nip that in the bud by infecting both Brown and his fiancee, Princess Amara (played by Cicely Tyson) with typhus in preparation for shipping them both off to Peking. They also try to kill Robinson and Scott. Of course, the good guys prevail, and Brown turns on his former handlers, exposing the Chinese plot to use the Afro-Asian Olympic games, sponsored by Brown, to expand their influence in Africa.

Still fresh from stand-up comedy, Bill Cosby looks uncomfortable and suffers a few missteps; but, as the next few episodes will reveal, he's a quick study. The Culp-Cosby banter that will become a series trademark is held to a bare minimum here, except when Kelly and Scotty are taking a few shots at James Bond (the film Goldfinger had only recently been released.) Even so, one of the bad guys, Tiger Joe Marsh, looks like he stepped directly off the set of a 007 flick. And the episode is bloodier than most, with our guys shooting six Chinese agents. Of particular interest is a long foot chase through the streets, over the rooftops and up the hills of Hong Kong, with three Chinese killers hot on the heels of Kelly and Scotty -- a chase that starts at night and continues into the next day, proving, if nothing else, that tennis bums have to be in really good shape. It's odd that our guys are wearing sunglasses during the daytime portion of this marathon; one wonders why they brought shades along for what was originally supposed to be only a late night cocktail with Brown and his fiancee. And even though Kelly breaks an arm in a daredevil stunt to stop a plane carrying Princess Amara, and shows up at the Hotel Peninsula wearing a cast, he's fully recovered from his injuries in the next scene. Either Kelly heals very quickly, or the guys had set up semi-permanent residence at the hotel. High marks go to Ivan Dixon for his portrayal of the arrogant and obnoxious Elroy Brown.



(And be sure to read the guest review, below!)