Synopsis
Kelly has three hours to acquire fifty thousand dollars, the price he must pay a master criminal for a roll of microfilm -- and Scotty's life.
[Location: Japan]
French title: La rancon
Italian title: Miss Lauder
Guest Stars
Julie London (Phyllis), Sheldon Leonard (Sorge), James Shigeta (Tommy), Simon Scott (Mr. Starrett), Key Shimatsu (Lieutenant), Kai Pat Li (Madame One Ten), Frank Kumagai (Pawnbroker), Virginia Lee (Ahnu), Moko Mokusho (Maid)
Written by
Morton Fine & David Friedkin
Directed by
Paul Wendkos
Original Airdate
8 December 1965
Want to review or rate this episode?
Send all submissions to ispy65@lycos.com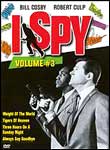 Currently available on DVD
(UPC: 14381982527)
Review
When thieves steal valuable microfilm from an American army officer in Tokyo, Kelly and Scotty are given the task of getting it back. They know the microfilm has fallen into the hands of Sorge, a master criminal who will sell it to the highest bidder. The problem lies in finding Sorge, a man so elusive that the Tokyo police can't catch him. The agents devise a plan; Kelly steals a diamond watch from girlfriend Phyllis and works his way through Tokyo's fences until he finally gets to Sorge. But Sorge soon learns that Kelly and Scotty are agents, and he has an even bigger transaction in mind -- Kelly must come up with fifty thousand dollars for the microfilm in three hours, or Scotty will be killed. Racing against time, Kelly gets no help from his contact in the U.S. embassy, or from his pal Tommy, a Japanese playboy. His last chance is Phyllis, but will she trust the man who stole from her once before?

This is a taut, exciting episode, without a single wasted scene, and well-played throughout by all the actors involved. Sheldon Leonard, I Spy's creator, is perfect as Sorge. (As he should be, with his previous acting career devoted to playing tough-talking gangsters and sundry other nasty characters.) Julie London isn't bad, either, as the rather rich and jaded Phyllis who turns out to be a lot less interested in her baubles than she is in a certain charming tennis bum. The teaser, in which the army officer is waylaid by a male and female team of thieves, doesn't have a single word of dialogue, and yet is highly effective. So is the final showdown with Sorge and his ruffians. But arguably the best scene is the one in which Phyllis turns the tables on Kelly when the latter tries trickery to get her out of her home long enough to steal her jewels. We get some insights into the lifestyle Kelly leads in his cover as a tennis bum -- late nights on the social circuit (while his partner is, usually, sound asleep in the hotel room), wealthy "benefactors" who probably make some good money with side wagers on Kelly's games, the occasional available female intrigued by this handsome athlete. Both Kelly and Scotty prove themselves to be tough and resourceful operatives, but they're not superheroes; they make mistakes and they bleed. That's a vital element that adds to the drama of this and subsequent episodes.