Synopsis
Kelly and Scotty must acquire a sample of a deadly new plague being developed by the Red Chinese and discover plans to test it in Japan.
[Location: Japan]
French title: La menace
Italian title: Peso del mondo
Guest Stars
Marlyn Mason (Vicki), Albert Salmi (Dr. Chulock), Rex Ingram (Dr. Bingham), Fuji (Ko), Hideo Inamura (Muk), Victor Sen Yung (Lee Wing), Robert Ho (Driver), Bob Okazaki (Attendant), Kay Shimatsu (Futa), Jack Reitzen (Lecturer), Jeanne Arnold (Mde. Chulock), Yuki Shimoda (Koyo)
Written by
Robert Lewin
Directed by
Paul Wendkos
Original Airdate
1 December 1965
Want to review or rate this episode?
Send all submissions to ispy65@lycos.com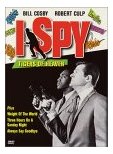 Currently available on DVD
(ASIN: B000055ZDB)
Review
A first-rate lineup of guest stars headlined by Marlyn Mason and Albert Salmi can't quite salvage Weight of the World from the strictly-average department. That's because the episode is played too tongue-in-cheek. The former plays a ditzy American secret agent named Vicki. She's determined to help Kelly and Scotty carry out their assignment -- namely, to find out what nefarious scheme a bunch of Red Chinese scientists are hatching at a dietary conference in Japan. It's hard to believe that the silly ruses she concocts in order to infiltrate the enemy's lab actually work. (We're to believe she persuades Mde. Chulock, a stern socialist and confirmed feminist, to submit to a makeover and photo shoot for the cover of a fashion magazine!) Mason plays her character with commendable verve, but Vicki could have been a much less stereotyped character. As for Salmi, he's wonderfully menacing as the leader of the Red Chinese contingent; unfortunately, he doesn't get much screen-time.

Meanwhile, Culp and Cosby mug their way through Robert Lewin's uninspired script. Luckily, they manage to abscond with a sample of the virus and send it off to Washington where, evidently, an anti-virus is cooked up in a matter of hours. Most of the episode is filmed inside a hotel (in other words, on a Hollywood set), and is, as a result, claustrophobic. There are two fight scenes; the most interesting one, which takes place in a pool, we don't see much of, while the other, at the conclusion of the fourth act, is reminiscent of the fisticuffs one remembers from Batman. You almost expect to see POW!, BOP! and SMASH! popping up on the screen. Of all the Japan episodes, which as a rule were consistently good, this entry is a lightweight.