Synopsis
Kelly and Scotty find their search for an enemy agent, to be used in an exchange for a captured American pilot, complicated by the pilot's wife.
[Location: Japan]
French title: Ni repris, ni echanges
Italian title: Lo scambio
Guest Stars
Sue Randall (Louise Richards), Kurt Krueger (Eric Thorsten), Mako (Jimmy), Byron Morrow (Bentley Reed), H.T. Hsiang (Jimmy's Father), Jo-Anne Miya (Kai Hu), Kai Hernandez (Secretary), Martin Priest (Lee Pink), Steve Gravers (Capt. Richards), Angela Korens (Stripper), Soon Taik Oh (Announcer)
Written by
Garry Marshall & Jerry Belson
Directed by
Leo Penn
Original Airdate
10 November 1965
Want to review or rate this episode?
Send all submissions to ispy65@lycos.com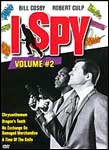 Currently available on DVD
(UPC:14381982428)
Review
An enemy agent, Eric Thorsten, has escaped American custody, and Robinson and Scott are given the daunting task of finding him in the teeming streets of Hong Kong. They don't have much time, either, as Thorsten is scheduled to be exchanged to the Red Chinese in return for a downed American pilot, Tommy Richards. Complicating their search is Richards' beautiful wife, Louise, who ends up killing Thorsten -- it's either that or stand by and let him kill Scotty with a jagged shard of window glass. That leaves our guys with a dilemma; how do you exchange a dead man for a live one?

No Exchange is a first-rate spy tale that combines humor, action and pathos. Skilfully told in flashback, as Robinson prepares a lengthy document for the Pentagon as part of his effort to receive recompense for a watch ruined in the line of duty, the story involves not one but two beautiful women -- Louise Richards and Kai Hu -- a worthy antagonist in the form of the resourceful and deadly enemy agent, Thorsten, played with perfect pitch by Kurt Krueger, and some fine exterior shots of Hong Kong as Kelly and Scotty prowl the colony in search of their elusive prey. Another of the episode's assets is Mako as Jimmy, the hip young Chinese-American club owner, puppeteer and informant. There are several particularly nice touches; our heroes are not 007s, as is demonstrated by their difficulty in handling Thorsten. And Robinson's longing for a Louise Richards-type of "woman who waits" is brilliantly portrayed by Culp with but a couple of glances. Director Leo Penn expertly intersperses the tense drama of the episode with several amusing scenes -- Kelly and Scotty engaged in an all-night marathon of report-writing, and their run-in with the expat tailor Leo Pincus in his Hong Kong shop to name but a few. "No Exchange" fits snugly into a string of topnotch episodes that began with "The Loser" and will end with "Tatia".