Synopsis
Kelly and Scotty are assigned to protect an obnoxious American gangster about to be extradited back to the United States, and who is marked for death by his underworld associates.
[Location: Hong Kong]
French title: Mefie-toi de leur sourire
German title: Wie Danny Preston das Lachen verlernte
Italian title: Danny...il bastardo
Guest Stars
Martin Landau (Danny Preston), Jeanette Nolan (Helen Robinson), Keye Luke (Lt. How), Aki Aleong (Kim), Linda Ho (Nancy), Ronald Star (Sam), Nick Colasanto (Genius), Larry Duran (Wong), John Barclay (Dr. Moran)

Written by
Arthur Dales

Directed by
Mark Rydell

Original Airdate
27 October 1965
Want to review or rate this episode?
Send all submissions to ispy65@lycos.com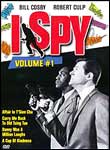 Currently available on DVD
(UPC: 14381982329)
Review
If you thought Elroy Brown ("So Long, Patrick Henry") was obnoxious, wait until you meet American mobster Danny Preston. He's going to be extradited from Hong Kong to the United States, where he's supposed to testify in the matter of illegal tampering with pharmaceuticals which end up so "watered down" that they are practically useless to physicians like Dr. Moran, who is trying to save Hong Kong children from a debilitating disease. Preston has a couple of hired guns to look after him, but Robinson and Scott are given the unpleasant task of babysitting him, anyway. Sure enough, it's a wise precaution, because one of Preston's bodyguards is shot and the other blown up by a bomb planted under the hood of Preston's car. Just in the nick of time, Kelly and Scotty discover that the "secretary" provided Preston by the hip, fast-talking expeditor Kim has been hired to do away with Danny, who mistakenly thinks he's made an arrangement with her to help him slip out of Hong Kong and escape extradition.

Martin Landau, one year away from his big break as Rollin Hand in Mission: Impossible, gives a bravura performance as the contemptible Danny; as if that's not enough, we have the talented Jeanette Nolan as "Aunt Helen," the colorful and matronly contact for Robinson and Scott who carries a small pistol in her brassiere and sternly rebukes the guys for ending up in jail. Also noteworthy: Aki Aleong as the glib Kim and Keye Luke (who would go on to fame in Kung Fu) as the businesslike policeman in charge of investigating the various attempts on Preston's life. Unfortunately, the first attempt, involving a bomb concealed in a loaf of bread, which a puzzled busboy discovers is ticking, is laughable. While there's a little footage of picturesque Hong Kong, most of this episode takes place in hotel rooms -- and all those sets are already starting to look depressingly alike.