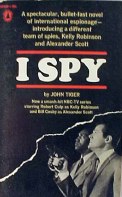 I Spy
John Tiger
Popular Library
Copyright 1965, Triple F Productions
142 pp
(front)
"A spectacular, bullet-fast novel of international espionage -- introducing a different team of spies, Kelly Robinson and Alexander Scott"
(back)
"Introducing a different pair of secret agents, Kelly Robinson, who appears to the world as a tennis bum deluxe...and Alexander Scott, who is very much not what he seems.

Here they face their most fantastic challenge -- an all-powerful underground organization called Force I, headed by the strangest master villain of them all, engaged in an incredible plot to destroy the best military minds in the Pentagon -- and plunge the world into nuclear holocaust.

Can Robinson and Scott get to Force I before it's too late?"

(inside)

"SPYING, ANYONE?

Here, in their most daring challenge, Kelly Robinson and Alexander Scott face deadly adventure that takes them from the Pentagon to all roads pointing to danger. They are racing against time with the master-criminal Demain (French for tomorrow).

And if they don't get to him before he unleases his diabolical plan, there will be no tomorrow for the world."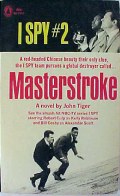 I Spy #2: Masterstroke
John Tiger
Popular Library
Copyright 1966, Triple F Productions
142 pp
(front)
"A red-headed Chinese beauty their only clue, the I SPY team pursues a global destroyer called...MASTERSTROKE"
(back)
"The men from I SPY face MASTERSTROKE...

A brilliant madman has invented a foolproof, detection-proof scheme to bring America and its allies to their knees with one press of a button. He calls it: MASTERSTROKE.

The only men with a faint chance of stopping MASTERSTROKE are Kelly Robinson, whose ne'er-do-well charm hides a nerve of steel, and Alexander Scott, the quipster with a computer mind -- the I SPY team. Their one slim -- but well-rounded clue -- a red-headed Chinese beauty, recent companion of the enemy mastermind, who shows a suspicious yen for Kelly...

Meantime, the hand moves toward the button that activates MASTERSTROKE..."

(inside)

"RUN, I SPY, RUN!

This is Kelly Robinson. He is a secret agent. He is also lots of fun. Girls like Kelly. Kelly likes girls.

This is Alexander Scott. He is a secret agent, too. He is very funny. He is also very smart. He is Kelly's friend.

This is Kelly and Scotty. They are good secret agents.

This is MASTERSTROKE. It wants to destroy the world. Kelly and Scotty want to destroy MASTERSTROKE. See them race to stop MASTERSTROKE. Run, Kelly and Scotty, run!"