I Spy 2002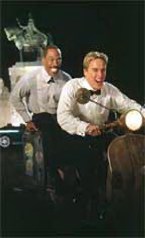 The latest on the I SPY movie

I Spy, starring Eddie Murphy, Owen Wilson, Malcolm McDowell and Famke Janssen arrived in theaters November 1, 2002. The film is directed by Betty Thomas (Private Parts, Dr. Dolittle). The screenplay is by Cormac and Marianne Wibberley; writing credits also include Ronald Bass, Robert Harling, David Ronn and Jay Scherick. The producers are Mario Kassar, Andrew Vajna and Jenno Topping. Back in 1999, it was rumored that Will Smith was interested in playing the role of Alexander Scott, but by 2000 Murphy had committed to the film. In the Fall of 2001, filming took place in Budapest; locations included the fort above the city as well as one of the oldest bridges. The production then moved to Vancouver, British Columbia, and wrapped in February 2002.

The premise: A secret agent, Alexander Scott (Owen Wilson), recruits a professional boxer, Kelly Robinson (Eddie Murphy), to help him recover a missing jet. One of the differences between the movie and the TV series is that the races of the two lead characters has been switched; Scott is white, Robinson black. (We have no clue as to why.)

The movie bore little resemblance to the television series. The vast majority of critics blasted it, and moviegoers stayed away -- it did poorly at the box office.


Here are some snippets from IMDb's Movie & TV News...

Eddie Murphy To Star In Another Movie Remake (11.30.00)
Eddie Murphy may play the Bill Cosby role in a theatrical version of the 1960s TV series I Spy the Hollywood Reporter reported today (Thursday). The film, to be produced by Sony's Columbia Pictures, is likely to be directed by Betty Thomas, who previously teamed with Murphy on Dr. Dolittle, the trade paper said. Lending some irony to the report is the fact that Murphy has frequently spoofed Cosby and that Cosby, in turn, has been critical of some of Murphy's gross-out professional antics. Although some critics have written that Cosby's character on I Spy played little more than a lackey to Robert Culp's character, many TV historians have noted that it marked a historical first for television: the first leading role for a black actor on a dramatic television series.
Eddie Murphy To Bring Cosby Role To Big Screen (12.1.00)
Eddie Murphy is being touted to star in a big-screen remake of Sixties TV show I Spy (1965-68) Murphy is in negotiations with Columbia Pictures to star as a professional athlete pressed into service by government agents trying to recover a missing jet. Director Betty Thomas is also in the frame for the remake, which studio bosses hope to film before the threatened Screen Actors' Guild strike hits Hollywood next year. The original I Spy starred Bill Cosby and ran on NBC.
Once the movie is released, post your reviews here
ispy65@lycos.com