American Cinema Editors, USA (Eddie Award)

1966 - nominated - Best Edited Television Program
Bud Molin (for "Court of the Lion")

1967 - nominated - Best Edited Television Program
Henry D. Molin (for "The Loser")




Ntl. Academy of Arts & Sciences (Emmy Awards)

1966 - nominated - Outstanding Dramatic Series

1966 - nominated - Individual Achievement in Music: Earle Hagen, composer, I Spy
1966 - nominated - Outstanding Single Performance
by an Actress in a Leading Role in a Drama:Eartha Kitt (for "The Loser")

1966 - nominated - Outstanding Performance by an
Actor in a Leading Role in a Dramatic Series: Robert Culp

1966 - won - Outstanding Performance by an Actor in a Leading Role in a Dramatic Series: Bill Cosby

1967 - nominated - Outstanding Dramatic Series

1967 - nominated - Individual Achievement in Music: Earle Hagen, composer, I Spy
1967 - nominated - Outstanding Writing Achievement in Drama: Robert Culp (for "The Warlord")

1967 - nominated - Outstanding Performance by an Actor in a Leading Role in a Dramatic Series: Robert Culp

1967 - won - Outstanding Performance by an Actor in a Leading Role in a Dramatic Series: Bill Cosby

1968 - nominated - Outstanding Dramatic Series

1968 - nominated - Outstanding Performance by an Actor in a Leading Role in a Dramatic Series: Robert Culp

1968 - won - Outstanding Performance by an Actor in a Leading Role in a Dramatic Series: Bill Cosby

1968 - won - Outstanding Achievement in Musical Composition: Earle Hagen (for "Laya")

Hollywood Foreign Press Assn. (Golden Globes)

1966 - nominated - Best TV Show

1966 - nominated - Best TV Star/Male: Bill Cosby

1966 - nominated - Best TV Star/Male: Robert Culp

1966 - won - Best TV Show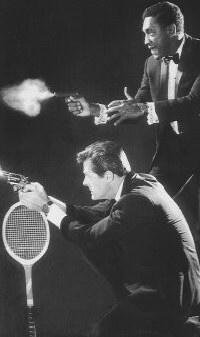 I Spy, which ran on NBC from 1965 to 1968, was a Sheldon Leonard Production which chronicled the exploits of fictional characters Kelly Robinson (Robert Culp)and Alexander Scott (Bill Cosby). Robinson and Scott, who posed as a professional tennis player and his personal trainer, were in reality spies for the United States. I Spy was a whimsical adventure show with a hip wit characteristic of the espionage genre in the 1960s. But rather than being drawn in the cartoonish James Bondian style, Robinson and Scott were fully realized characters who displayed a range of feelings and concerns uncharacteristic of spy television heroes. They bled, got headaches, and often doubted themselves and their role in global affairs.

The Cold War has often been considered a generative force for the television espionage programs. The genre of spy fiction, which arguably began its 1960s cinematic version with Dr. No, made its way to television in 1964 with The Man from U.N.C.L.E. Many imitators followed, but I Spy was a departure from the style established in earlier shows. In this series, Robinson and Scott did not battle against shadowy organizations of global evil, such as THRUSH from The Man from U.N.C.L.E. or SPECTRE from James Bond films. Rather, the show recognized political tensions of the day. I Spy unashamedly acknowledged the role of the United States in the arena of world espionage.

Virtually the entire first season was filmed on location in Hong Kong and other Asian locales. Leonard, as well as producers David Friedkin and Morton Fine, had no qualms about spending money to avoid a "backlot" look to the show. Associate producer Ron Jacobs and location manager Fuad Said worked with both their own "Cinemobile" and film crews from NBC News Asian bureaus to get much of the location footage used in that first season. The second season was filmed almost exclusively in Greece, Spain, and other Mediterranean locations, using similar techniques.

But the series did not depend exclusively on exotic location and "realism" for its narratives. It also looked at the personal side of espionage and the toll it could take on those who practiced it. The characters would often admit and lament the fact that they had to fight the forces of evil on their level. Unlike many shows of the genre, I Spy dealt with agents dying cruel deaths, burning out on the spy game, and often even doubting the nature of orders from superiors. This questioning of authority was more at home in programming based on the "counterculture" pitched toward the youth of the times. Yet Cosby and Culp more often than not straddled the fence between rebellion and allegiance despite the fact that after the premiere of I Spy, New York Times Television critic Jack Gould called it a show "looking for a style and attitude."

I Spy was one of the first dramatic shows to feature an African-American male as a leading character. Producer Leonard was certain of Cosby's talents but the network had grave doubts about casting an untested stand-up comedian in a dramatic lead. The network's concerns were quickly dispelled by Cosby's deft and multifaceted talent--a talent which garnered him three consecutive Emmys as Best Male Actor in a Dramatic Television series between 1965 and 1968. Originally, the role of Alexander Scott was to have been that of a bodyguard for Kelly Robinson. Both Cosby and Culp conferred with the three producers (Leonard, Friedkin, and Fine) and the decision was made to have Robinson and Scott as equals. Cosby also stated that racial issues would not be dealt with on I Spy. This "color blind" approach freed the show from having to impart a message each week and instead allowed it to succeed by emulating the conventions of the genre of espionage adventure. I Spy also showcased the talents of other African-American actors of the time including Godfrey Cambridge, Ivan Dixon, and Eartha Kitt. As a result of its ostensible neutrality on race relations, African-Americans could be heroes or villains with a minimum of political overtones.

Though never a Top Twenty show, I Spy enjoyed three successful years on NBC. Bill Cosby in particular enjoyed very high Q ratings (audience appreciation ratings) for the run of the show. In 1994, an I Spy reunion movie was broadcast. But more than a quarter century had passed since Robinson and Scott last toiled to preserve world security and the viewing audience was not as welcoming as it had been.

-- John Cooper, mbcnet.org
When James Bond became a box-office sensation in the 1960's, producers around the globe scrambled to capitalize on his profitable exploits. This led to a wave of spy adventures that blanketed both the big and little screens during the mid-1960's. Many of these shows relied on gadgets and flashy visuals, but a few took advantage of this craze to do something interesting and different. The definitive example of the latter approach was I Spy, a classic show that downplayed spy show conventions in favor of characterization, humor, and great dialogue.

I Spy focused on Kelly Robinson and Alexander Scott, two Pentagon agents who traveled around the world on an undercover basis as they carried out their missions. For their cover, Robinson impersonated a tennis player and Scott pretended to be his trainer. The two men were a study in opposites: Robinson was a party-hearty guy who loved to enjoy the 'good life,' while Scott was a no-nonsense character with a strong sense of devotion to his family. Just the same, these two worked very well together because they shared a very dry sense of humor that often manifested itself in the form of snappy banter.

I Spy was unlike the traditional spy show in many ways. Instead of confining its shooting to studios, this series was shot mostly in distant locales like Japan and Turkey. I Spy also downplayed comic-book plotting and over-the-top supervillains in favor of premises built around realistic espionage situations like industrial sabotage and the theft of state secrets. Most notably, I Spy was the first American television show to feature an African-American actor in a dramatic lead role. Even better, the show did not acknowledge the race issue, depicting the friendship between the two men in a subtle, matter-of-fact fashion.

The interracial casting used in I Spy was indeed a brave gamble on the part of the producers, but it was also a gamble that paid off in a big way. Stand-up comedian Bill Cosby not only proved himself to be an excellent dramatic actor as Alexander Scott, he also brought a lot to the show with his ability to improvise subtly funny dialogue. Indeed, Cosby and his slick co-star Robert Culp (Robinson) had a magical chemistry that allowed them to trade memorable quips with ease. A sample exchange:

Scott: "Has anybody told you look good in that?" Robinson: "Why, no." Scott: "Well, if they do, smack them in the face 'cause they're not your friend."

These clever verbal duels were often improvised by Culp and Cosby, adding an additional luster to the show's already well-written scripts. The combination of high-class style and Cosby and Culp's infectious chemistry turned I Spy into an immediate hit. It went on to enjoy a successful three-year run and also won several awards, including a Best TV Show Award at the 1967 Golden Globes and two Emmys for Cosby. When the show ended, both Cosby and Culp went on to lengthy film and television careers that continue today. Most notably, Cosby scored a career-defining hit in the mid-1980's with the legendary sitcom The Cosby Show.

Today, I Spy remains a firm fan favorite. It has not popped up in syndication as frequently as some other shows from its era, but when it does, it is eagerly watched by a cult of faithful devotees. The show's enduring status as a classic also led to the 1994 reunion television film I Spy Returns. All in all, I Spy's ability to maintain its status many decades after the fact proves that it was truly a spy show with a difference.

-- Yesterdayland synopsis