Synopsis
Kelly meets an old friend's fiance in Hong Kong, only to watch the man suddenly drop dead, victim of a secret society called the Blue Dragon.
[Location: Hong Kong]
French title: Dans les griffes du dragon
Italian title:" Il drago blu
Guest Stars
Joanne Linville (Alicia Cavanaugh), Kam Tong (Wang Lee), Walter Burke (Johnny Sax), Laya Raki (Tai Chiang), Mike Faulkner (George Serengi), Ron Whelan (Captain Porter), Robert Donner (Dr. Bustard), John Agrahan (Dr. Stern), James Wong (Dr. Lee), Anabel Garth (Audrey), Carolyn Kido (Servant)
Written by
Gilbert Ralston
Directed by
Leo Penn
Original Airdate
13 October 1965
Want to review or rate this episode?
Send all submissions to ispy65@lycos.com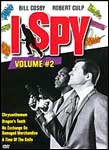 Currently available on DVD
(UPC: 14381982725)
Review
In Hong Kong, Kelly and Scotty are introduced to George Serengi, the fiance of one of Kelly's old flames, the elegant Alicia Cavanaugh. A minute later, Serengi falls dead, poisoned, and the clues point to a mysterious group called the Blue Dragon. Serengi had been our guys' new assignment -- rumor had it he was smuggling weapons to the Vietcong -- and Kelly and Scotty set out to learn why he was murdered. In the process they find themselves the targets of Blue Dragon. Imagine Kelly's surprise when he discovers that Alicia is the head of that organization. Our heroes are captured, and are about to be poisoned when they manage to turn the tables on the bad guys.

Adopting a Charlie Chan mystery formula to build an episode around is a miscue for the fledgling series. Another problem is the character of Alicia; unraveling the mystery of the Blue Dragon takes up too much time and there's not enough left to develop a believable relationship between her and Kelly. Joanne Linville and Robert Culp are talented actors, but there's no chemistry there. The bright spots are few and far between. One is Walter Burke as Johnny Sax, our agents' contact and a world-weary piano player with a superbly dry wit. Mark it down to growing pains; by the next episode ("The Loser"), Culp and Cosby have found their groove, the series is starting to find its own unique style, and we're off and running.