9. No Exchange on Damaged Merchandise

Synopsis
Kelly and Scotty find their search for an enemy agent, to be used in an exchange for a captured American pilot, complicated by the pilot's wife.
[Location: Japan]
French title: Ni repris, ni echanges
Guest Stars
Sue Randall (Louise Richards), Kurt Krueger (Eric Thorsten), Mako (Jimmy), Byron Morrow (Bentley Reed), H.T. Hsiang (Jimmy's Father), Jo-Anne Miya (Kai Hu), Kai Hernandez (Secretary), Martin Priest (Lee Pink), Steve Gravers (Capt. Richards), Angela Korens (Stripper), Soon Taik Oh (Announcer)
Written by
Garry Marshall & Jerry Belson
Directed by
Leo Penn
Original Airdate
10 November 1965
Review
Want to review or rate this episode?
Send all submissions to ispy65@lycos.com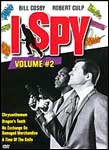 Currently available on DVD
(UPC:14381982428)