11. Weight of the World

Synopsis
Kelly and Scotty must acquire a sample of a deadly new plague being developed by the Red Chinese and discover plans to test it in Japan.
[Location: Japan]
French title: La menace
Guest Stars
Marlyn Mason, Albert Salmi (Dr. Chulock), Rex Ingram (Dr. Bingham), Fuji (Ko), Hideo Inamura (Muk), Victor Sen Yung (Lee Wing), Robert Ho (Driver), Bob Okazaki (Attendant), Kay Shimatsu (Futa), Jack Reitzen (Lecturer), Jeanne Arnold (Mde. Chulock), Yuki Shimoda (Koyo)
Written by
Robert Lewin
Directed by
Paul Wendkos
Original Airdate
1 December 1965
Review
Want to review or rate this episode?
Send all submissions to ispy65@lycos.com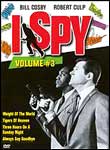 Currently available on DVD
(UPC: 14381982527)