Synopsis
Kelly Robinson must spring a trap set by the Vietcong for a guerrilla leader named The Tiger, using the latter's daughter, an American agent, as bait.
[Location: Vietnam]
French title: Le tigre
Italian title: Tigre
Guest Stars
Lew Ayres (Dr. Maclean), France Nuyen (Sam), Robert Brubaker (Colonel Wise), Allen Yung (Commander), William Boyett (Jim), Martin Fong (Groggy Soldier), Nancy Hsueh (Nurse)
Written by
Robert Culp
Directed by
Paul Wendkos
Original Airdate
5 January 1966
Want to review or rate this episode?
Send all submissions to ispy65@lycos.com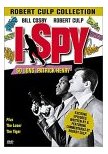 Currently available on DVD
(UPC: 14381984323)
Review
The Tiger is a medical missionary turned guerrilla fighter named Dr. MacLean, and he's about to be drawn into a Vietcong trap to rescue his kidnapped daughter Sam, who happens to be an American agent -- and a woman Kelly Robinson is very fond of. Kelly's job is to spring that trap before The Tiger walks into it. Unfortunately, MacLean shows up with guns blazing just seconds before Kelly can execute his plan and rescue Sam, with the end result that all three are captured. But have no fear, the resourceful Kelly Robinson, with a little help from Scotty and the United States Air Force, carries out a daring escape.

One of the seven I Spy episodes scripted by Culp, and one of the four featuring the talented France Nuyen (who will reprise her role as Sam MacLean in "Magic Mirror"), "The Tiger" is something of a departure as Kelly embarks on a Bondian adventure armed with plenty of gadgets, including a watch that sends a signal that will launch a USAF air strike on the VC encampment where he and Sam and MacLean are being held, and a packet of cigars that are laced with a substance that drugs his captors. Scotty is relegated to flying around over the jungle in a helicopter, insisting that the powers-that-be can't give up on his partner. As usual, when Culp is the writer, the script is lean and smart, so there's plenty to like about "The Tiger" -- except perhaps the way the enemy just stands around at the end waiting for the bombs to fall on them and allowing Robinson and the MacLeans to effect their escape.