Synopsis
Kelly and Scotty are given the task of "kidnapping" a high-ranking U.S. official visiting Mexico to test her security arrangements, only to discover that they're being used by a traitor who plans to kill the official.
[Location: Mexico]
French title: La conquête de Maud Murdock
Italian title: La conquista di Maude Murdock
Guest Stars
Jeanette Nolan (Maude Murdock), Philip Bourneuf (Saunders), Pedro Gonzales-Gonzales (Jaime), Lawrence Haddon (Social Secretary), William Stevens (Security Man), Larry Thor (Walter Kermit), Melora Conway (Secretary), William Leslie (Security Agent), Rico Alaniz (Mexican General), Joel Fluellen (Oba Businga), Carlos Romero (Bandit #1), Pepe Callahan (Bandit #2), Catherine Wilkes (Estrellita)
Written by
Robert C. Dennis & Earl Barrett
Directed by
Paul Wendkos
Original Airdate
2 March 1966
Want to review or rate this episode?
Send all submissions to ispy65@lycos.com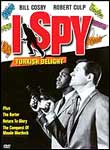 Currently available on DVD
(UPC: 14381982725)
Review
When they're asked to "kidnap" Maude Murdock, an American undersecretary visiting Mexico, Kelly and Scotty think it's just a game to test the undersecretary's security arrangements. Little do they know that Saunders, the embassy official giving them their orders, is actually a traitor who plans to kill Maude Murdock and blame it on Mexican nationalists. Nor do the guys realize just how difficult it will be to get to Maude, who turns out to be a pretty feisty handful. And even when they (finally) succeed in nabbing Maude, they've got to get her back from Saunders and his submachinegun-wielding goons.

This light-hearted romp has a lot going for it. Jeanette Nolan makes her second appearance on I SPY (her first was as Aunt Helen Robinson in "Danny Was A Million Laughs") as yet another feisty and resourceful woman, and much credit must go to her for transcending stereotype and creating a memorable character. The dialogue fairly crackles, and the team of Culp and Cosby are at their best; their glib banter never misses a beat or hits a sour note. A nod should go to Pedro Gonzales-Gonzales who plays taxi-driver Jaime, who resolutely assists Kelly and Scotty in their various schemes to gatecrash Maude's reception. Look for James Oliver Green and Bill Curtis as diminutive versions of Kelly and Scotty, snappy repartee and all. Mixing danger, intrigue and tongue-in-cheek comedy isn't easy, but this time everyone gets the formula down just right.