Synopsis
After Kelly bets Scotty that he can disappear for a week without being found, Scotty learns that his partner has been infected with the anthrax virus and will die in 24 hours.
[Location: Mexico]
French title: Un pari stupide
Italian title: Scommettiamo un dollaro
Guest Stars
Pepito Hector Galindo (Ramon), Danielle de Metz (Racquel), Lou Krugman (Hidalgo), Miguel Landa (Dr. Munoz), Martin Garralaga (Ramon), Stella Garcia (Nurse Frias), Linda Rivera (Nurse)
Written by
David Friedkin & Morton Fine
Directed by
Richard Sarafian
Original Airdate
16 February 1966
Want to review or rate this episode?
Send all submissions to ispy65@lycos.com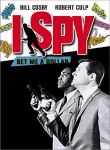 Currently available on DVD
(UPC: 14381984224)

(VHS 630265047X)
Review
In Mexico City, on a night out with a beautiful woman, Kelly comes to the rescue of a man attacked by two goons, and in the fight that ensues he's cut with a knife. Later, he and Scotty make a bet -- Kelly wagers that he can elude his partner for a solid week. This game of hide-and-seek, however, turns deadly when Scotty learns that the knife that caused Kelly's injury was infected with the anthrax virus. If he doesn't get treatment in 24 hours, Kelly Robinson will die. So begins a dramatic race against time, as Scotty employs the entire Mexican police force (or so it seems) to assist him in locating the elusive Kelly, who is assisted by Ramon, a shoe-shine boy who turns out to be the key to the resolution of the crisis.

Bet Me A Dollar is, hands down, one of the best episodes of the series. Quite apart from the great on-location shots, the unique and riveting storyline, and solid performances all around, the episode is superb in delineating the characters of Kelly Robinson and Alexander Scott, the former brash and imaginative, the latter serious and resourceful. By separating the team and creating a scenario in which they work at cross purposes, the story demonstrates just how formidable the guys are as a unit. That's to be expected, though, in an entry written by Friedkin and Fine, who did as much as Culp, Cosby and Sheldon Leonard to define I Spy in its first season.