Synopsis
Kelly and Scotty set out to find a blue-eyed giant who rescued Kelly's girlfriend from a car wreck, only to discover that he's a missing Soviet colonel.
[Location: Mexico]
French title: Quetzacoatl
Italian title: Il giorno del quarto giaguaro
Guest Stars
Rory Calhoun (Dimitri), George Montgomery (Nicolai), Kamala Devi (Felicitas), Robert Carricari (Doctor), Larry Ward (Blair), Joe Dominguez (Peasant), Henry O'Brien (Aztec #1), Henry Armago (Aztec #2)
Written by
Michael Zagor
Directed by
Richard C. Sarafian
Original Airdate
9 March 1966
Want to review or rate this episode?
Send all submissions to ispy65@lycos.com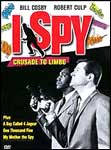 Currently available on DVD
(UPC: 14381982824)

(VHS B00000FOKX)
Review
Acapulco. Kelly and current girlfriend Felicitas are involved in a car wreck. Felicitas is pinned beneath an overturned Jeep. Kelly limps away for help. A "bearded, blue-eyed giant" appears to lift the Jeep off Felicitas. She prevails upon Kelly to find this mysterious man so that she can thank him. Kelly and Scotty discover that he's a missing Soviet colonel named Dimitri who is living among the descendants of Aztecs. They think Dimitri is a god (sort of). Meanwhile, the Dimitri's friend, Nicolai, has been given the task of finding him and bringing him home. Nicolai is posing as a drawling American cowboy type, and demonstrates a willingness to kill Felicitas and Kelly and Scotty to get the job done. He ends up killing Dimitri instead, for which he is put to death by the vengeful Aztecs.

A couple of old cowboy stars, Rory Calhoun and George Montgomery, star in this laugher, which must surely rank as one of the worst episodes in the series. Culp and Cosby look embarrassed to be involved in a hackneyed script involving that old shtick about a white man who descends upon the poor, ignorant natives, who promptly proceed to worship him. It's like something out of Doc Savage, and better suited to The Man From U.N.C.L.E. or The Wild Wild West than I SPY. Montgomery still hadn't learned how to act, and Calhoun looks ridiculous in Aztec get-up. (He also looks awfully small to be the "giant" who lifts a 3,000 pound Jeep with his bare hands, but then logic has no place here.) Nothing more need be said except to speculate that all concerned must have been very relieved to move on -- just as relieved as the unfortunate viewer when the final credits finally begin to roll.