Synopsis
On assignment to help a Soviet philosopher defect to the U.S., Scotty impersonates a foreign ambassador while Kelly tries to rescue a kidnapped girl.
[Location: Japan]
French title: L'echange
Italian title: Il baratto
Guest Stars
Roger C. Carmel (Gordon Merritt), John Abbott (Professor Shenko), Philip Ober (Mr. Sommers), John Alderson (Koski), Michael Forrest (Igor), Lisa Jager (Lin Sommers), Noel Drayton (Mr. Gurney), George Perina (Fjodor), Yuki Shimado (Mr. Shung), Helen Funai (Kako), George Takei (Yuze), Irwin Ahenazy (Leader), George Zaiwa (Vlerk), Karl Lukas (Agent #2), Brad Logan (Agent #1), Joan Blackman (Donna Shepard)
Written by
Harvey Bullock & P.S. Allen
Directed by
Allen Reisner
Original Airdate
12 January 1966
Want to review or rate this episode?
Send all submissions to ispy65@lycos.com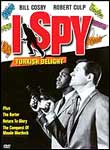 Currently available on DVD
(UPC: 14381982725)
Review
With the able assistance of an American businessman named Sommers, Kelly and Scotty manage to snatch the noted Russian philosopher, Professor Shenko, away from his burly Soviet watchers, and prepare to expedite the professor's defection to the West, only to discover that Sommers' little girl, Lin, has been kidnapped, and is being offered as barter -- she'll be returned to her father in exchange for Shenko. The go-between is an Aussie ne'er-do-well named Gordon Merritt, played by Roger C. Carmel, who had appeared previously, as another character in "Affair in T'sien Cha. (He would portray a third character in "Red Sash of Courage".) This time Carmel has a meatier role as a sleazy, cunning broker who isn't quite cunning enough; he agrees to lead Kelly and Scotty to the girl only after they make it appear to his Russian handlers that he has turned against them. The Sommers girl is rescued and Shenko makes good his defection.

This is a reasonably well-written episode, with enough doublecrossing to keep the audience guessing until the very end. Not only do Kelly and Scotty use a classic technique to "turn" Merritt, but they also discover that the Soviets have infiltrated one of their own into the Sommers household in the person of the tutor Donna Shepard. That makes sense, as Sommers, though a legitimate businessman, has long been assisting American intelligence in Japan. It's disappointing, though, that Kelly and Scotty seem able to handle their Soviet counterparts, Koski and Igor, so handily, especially as that pair is set up at the beginning as formidable foes -- one the national pistol champion and the other Russia's foremost judo expert. In fact, our heroes have a pretty easy time of it all round, so there isn't much suspense. It's just another day at the office.