Synopsis
On the trail of stolen diamonds and radioactive isotopes, Kelly and Scotty find a Japanese village terrorized by gangsters led by a man who calls himself a Zulu king.
[Location: Japan]
Guest Stars
Godfrey Cambridge (Cetshyayo), Miko Mayama (Mei), Mako (Baby Face), Dale Ishimoto (Captain Shimatsu), Ed Parker (Udo), Joseph Kim (General), Rozelle Gayle (Zulu Guard), Morgan Roberts (Zulu Guard), Don Blackman (Zulu Guard), George Matsui (Mate), Mariko Taki (Reiko), Lois Kinchi (Old Lady), Yuki Tani (Girl #1), Mori Moto (Girl #2)
Written by
Robert Culp
Directed by
Robert Culp
Original Airdate
2 February 1966
Want to review or rate this episode?
Send all submissions to ispy65@lycos.com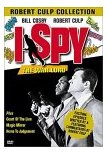 Currently available on DVD
(UPC: 14381984323)
Review
Henry (Bud) Molin earned an Eddie Award nomination for Best Edited Television Program for this episode.