Synopsis
Scotty is captured and interrogated by an American expatriate actor who's selling NATO maneuver secrets to the Soviets, while Kelly becomes involved with the actor's girlfriend.
[Location: Spain]
French title: Fin de film
Italian title: Noie con Temple
Guest Stars
Carol Wayne (Temple Jones), Jack Cassidy (Nick Fleming), Kurt Kasznar (Dr. Ibanez), Joan Huntington (Anya), Ed Parker (Rico)
Written by
Morton Fine & David Friedkin
Directed by
Tom Gries
Original Airdate
25 January 1967
Want to review or rate this episode?
Send all submissions to ispy65@lycos.com

Currently available on DVD
(UPC: 14381983326)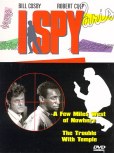 (UPC: 14381502121)
Review
Nick Fleming is an American actor living and making movies in Spain. He is also smuggling photos of NATO maneuvers to the enemy by splicing them into his films. While Scotty is captured and interrogated by Nick and his crony Dr. Ibanez, Kelly, blissfully unaware of his partner's dilemma, whiles away the time with the jealous Nick's girlfriend, the beautiful if somewhat flighty Temple Jones. Thanks to Kelly's influence, Temple decides to leave Nick; Nick makes her deal -- she stays or Scotty dies. She agrees to stay but Nick doesn't let Scotty go, and both Mr. Scott and Miss Jones are about to be terminated when Kelly arrives, guns blazing, to put an end to the whole affair.

The trouble with "The Trouble with Temple" is in the guest stars. Two of them -- Jack Cassidy and Kurt Kasznar -- are unparalleled in their ability to chew up the scenery, while Carol Wayne makes Marilyn Monroe look like Oscar material. The script by I SPY pros Fine and Friedkin is quite good, though one has to wonder why Kelly didn't check out the Fleming villa immediately after learning that Scotty hadn't shown up as expected in Rome. Culp and Cosby turn in performances that are a cut above their usual high standards, and the fight scene between Nick and Kelly is particularly well done. But Wayne, aided and abetted by Cassidy and Kasznar, turns "The Trouble with Temple" into low-brow melodrama in too many places, and the episode ends up strictly average. Keep an eye out for Ed Parker in a small role -- Parker was Culp's martial arts mentor.