69. An American Empress

Synopsis
Trying to return a ring to a Chinese woman they met in San Francisco, Kelly and Scotty discover that she is the Empress of China -- and an unwitting pawn of the Red Chinese.
[Location: USA}
French title: L'impératrice yankee
Guest Stars
France Nuyen (Mai Lin), Philip Ahn (Tu Po), Benson Fong (Cheng), James Hong (The Curator), Beulah Quo (Amah), Allen Jung (Man Servant), Kam Tong (Kung)
Written by
Elick Moll & Joseph Than
Directed by
Earl Bellamy
Original Airdate
25 December 1967
Review
In San Francisco, and about to embark on a short vacation to Lake Tahoe, Kelly and Scotty happen to meet the lovely Mai Lin, a Chinese woman who, oddly enough, claims she has lived in Frisco all her life and yet can't even identify Alcatraz. She gives Kelly a ring in return for his buying her a pair of sunglasses and, as it turns out, it's a very valuable ring. In an effort to return it to Mai Lin, they discover that she is the exiled Empress of China, who has spent most of her life hidden away in a waterfront fireworks warehouse. Worse still, one of her most trusted aides is actually a Red Chinese agent using the Empress to raise funds from the Chinese-American community. Naturally, Kelly and Scotty take time out from their busy schedule to set things right.

A truly enjoyable episode based on a highly original plot, with plenty of great on-location scenery, not to mention the easy-on-the-eyes France Nuyen, who would soon becomes Mrs. Robert Culp, and who had appeared previously as an agent named Sam in "The Tiger" and "Magic Mirro" as well as a third character in "Always Say Goodbye". Philip Ahn of "Carry Me Back to Old Tsing-Tao" is back, too, though, sadly, in a much smaller role. There are several very memorable scenes, including a twist on the "locked room" (that had by now become an I SPY gag) in which a gong opens a trapdoor concealed in the floor. The climactic shootout, which sets off a massive fireworks display is exciting. "An American Empress" launched a string of episodes -- "Home to Judgment", "Anyplace I Hang Myself is Home", "Tag, You're It" and "A Few Miles West of Nowhere" that were consistently some of the series' best, and showed that I SPY was still going strong, creatively, in the third season.





Want to review or rate this episode?
Send all submissions to ispy65@lycos.com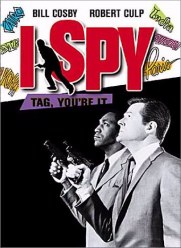 Currently available on DVD
(UPC: 14381983920)