Synopsis
Scotty is ordered to cultivate an African woman to learn about armament shipments to her country, while her boss demands that she manipulate Scotty.
[Location: Greece]
Guest Stars
Michael Rennie (Hamilton), Janet MacLachlan (Laya), Keith Andes (Troy), Marino Mase
(Miklos)
Written by
Morton Fine & David Friedkin
Directed by
Earl Bellamy
Original Airdate
25 September 1967
Want to review or rate this episode?
Send all submissions to ispy65@lycos.com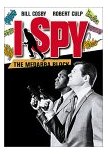 Currently available on DVD
(UPC: 14381983623)j
Review
When he is ordered to romance a beautiful young African woman in order to acquire a list of heavy armaments being shipped to her country, Scotty has an attack of conscience, and it only gets worse when he falls in love with Laya. Meanwhile, Laya's boss, Hamilton, expects her to take advantage of Scotty's feelings like the good little Communist foot soldier that she's supposed to be. The lovers, then, are caught in a web of intrigue and deceit spun by their respective camps -- and they're doomed from the beginning. Further complications arise when Kelly's determination to carry out the assignment -- he steals a list of armament shipments Laya has offered to Scotty (who rejects it) -- causes a falling out with his partner. Hamilton forces Laya to make a choice: Either she faces the consequences for giving up the list, or she helps him kill Scotty.

"Laya" is a superior espionage tale in every respect. A terrific plot devised by I SPY pros Fine and Friedkin is augmented by well-defined and memorable supporting characters, from Hamilton, played by the splendid Michael Rennie, who clearly struggles with jealousy when Laya falls for Scotty, to Miklos, the slick, knife-wielding Greek crony of Hamilton's, to Troy, the unscrupulous field officer who gives Scotty the assignment. The durability of the friendship between Kelly and Scotty is sorely tested when Kelly, by stealing the list from Laya, puts her life at risk. But the friendship prevails, and mute but powerful testimony to this is the closing sequence in which Kelly follows his grief-stricken partner through the Greek ruins, giving space and lending silent support. And speaking of Greek ruins, one gets a strong sense of how special I SPY was in its time as Scotty and Laya conduct their budding romance against the romantic backdrop of Athens.

Earle Hagen won an Emmy Award for Outstanding Achievement in Musical Composition for this episode.