Synopsis
The murder of a fellow agent Kelly recruited puts Robinson and Scott on the trail of a British mathematician who is being held for ransom by Greek gangsters.
[Location: Greece]
French title: Mais ou est donc Kate?
German title: Auf Delos verschwunden
Guest Stars
Barbara Mullen (Kate Stanford), Keith Andes (Troy Duncan), Gregoire Aslan (Mandras), Sam Burke (Grogot), Marilyn Devin (Young Woman), Tom P. Pace (Jimmy Mitchell), Robert Patten (Michelis), Noel Purcell (Fletcher), Lazos Terzas (Niko), Gianni Musy (Captain)
Written by
Jerry Ludwig
Directed by
Earl Bellamy
Original Airdate
23 October 1967
Want to review or rate this episode?
Send all submissions to ispy65@lycos.com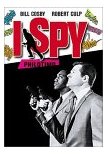 Currently available on DVD
(UPC: 14381983722)
Review
When fellow agent and friend Jimmy Mitchell is murdered after spotting a missing British mathematician, Kate Stanford, on the island of Mykonos, Kelly and Scotty are on the case, their only lead the unusual fabric of the jacket Mitchell had made by a Mykonos weaver. Soon enough, though, the guys discover that Kate is being held by a gang of Greek criminals, who are demanding a ransom for her safe return. Kelly and Scotty are captured, tied up, escape, rescue Kate from a boat and are chased through ancient ruins by the bad guys -- only to discover that the baddest guy of all is their own bureau chief, Troy Duncan, who masterminded the entire kidnapping scheme.

This action-packed entry has a lot going for it -- plenty of picturesque Greek scenery, some equally picturesque characters and a solid script with a nice twist at the end. With veteran I SPY director Earl Bellamy at the helm, the dialogue is brisk and the pace is quick -- perhaps too quick, as it seems the denouement comes a little early, leaving the last few minutes to be filled with inconsequential scenes involving Kelly, Scotty and the surprisingly fun-loving Kate partying with the locals. One of the many positives of I SPY was the fact that our heroes aren't superhuman 007 clones -- they make mistakes. The Greek criminals outwit them in the Mykonos weaver's shop, and Kelly confronts a bad guy only to discover his gun is empty. Oops! Still, many shootouts, chases and tight spots later, they prevail.