I Spy Fan Fiction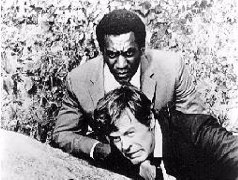 If you've written a story about the I Spy team of Kelly Robinson
and Alexander Scott, then you're welcome to post it here.
We reserve the right to decline to publish any material we don't
think is suitable (i.e. "adult" material.) Just send your fan fiction to
ispy65@lycos.com
by Jason Manning. A long-lost fortune in gold coins and a beautiful woman marked for death by a sinister organization lead Kelly and Scotty into danger above and below the
sea. (October 2002)

by Aunty Alta. A prequel to the classic episode, "Home to Judgment"; Kelly and Scotty find themselves in the fight of their lives as they tangle with a band of ruthless and resourceful saboteurs. (September 2002)

by Jason Manning. The mysterious death of a journalist catapults Kelly and Scotty into the middle of a government operation to protect a witness -- an operation blown apart by a deadly doublecross. (July 2002)

by Aunty Alta, a missing scene from the episode A Cup of Kindness. Kelly is burdened with guilt after Scotty is wounded by Russ Conley -- an old friend whom Kelly refused to believe was a double agent. (June 2002)

by Jason M. Kelly Robinson has checked out of the spy game following the death of a beautiful Mossad agent, and Alexander Scott must bring his partner in out of the cold before a brilliant KGB spymaster uses Kelly as a pawn in the search for a missing Russian scientist. (June 2002)

by Aunty Alta, expanding on the classic episode Home to Judgment. Hunted by relentless killers, Scotty and a badly injured Kelly seek refuge on a farm owned by the latter's aunt and uncle, and in the midst of their struggle for survival, Kelly must fight demons from his past. (June 2002)

Disclaimer: Kelly Robinson, Alexander Scott and all other characters and story elements that have appeared in the television series, I Spy, are the sole property of TF Productions and Paramount Television, et al. No copyright infringement was intended by the writing of this fan fiction, and no profit is sought or gained by the writing of it. All other characters, story ideas and stories themselves are the sole property of the author. The author retains all rights attached to the creation of the work. No work, in whole or part, may be reproduced without the author's express permission. To contact the author, write to ispy65@lycos.com. Your message will be promptly forwarded.