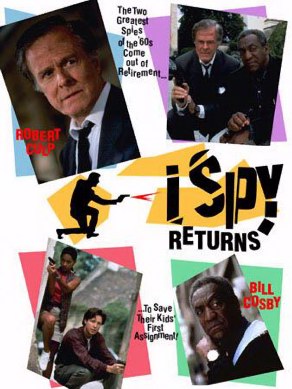 Synopsis
It's been many years since Kelly Robinson and Alexander Scott worked together. Kelly is still in the spy business. Scott has retired. But they're back together again, this time in Vienna, after Kelly sends their offspring, Bennett Robinson and Nicole Scott, into action to babysit some Russian scientists. Their paternal instincts kicking in, Kelly and Scotty set out to protect their kids -- even though the kids don't want protecting!
_____________________________
Robert Culp .... Kelly Robinson
Bill Cosby .... Alexander Scott
George Newbern .... Bennett
Salli Richardson .... Nicole
Nikolaus Paryla .... Cherbakov
Lynsey Baxter .... Satina
Jonathan Hyde .... Caesar Baroodi
Sheila Wills .... Lily Scott
Brent Huff .... Tilden
Greg Blanchard .... Vines
Kateryn Lucius .... Scotty's Secretary
Ilene Kreshka .... GS-7
Paul Kreshka .... Desk Sergeant
Christoph Hohlfeld .... Dieter
Johannes Krisch .... Klaus
Directed by Jerry London
Written by Michael Norell (Morton Fine & David Friedkin)
Executive producers:
Bill Cosby, Sheldon Leonard, David R. Ginsburg
Producer: Michael O. Gallant
Original music by Johnny Harris
Cinematography by Martin Stingl
Film Editing by Sidney Wolinsky
1994, Citadel Entertainment
Filmed in Hollywood and Vienna, Austria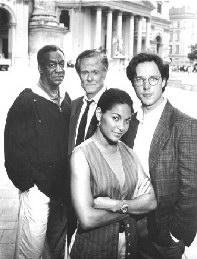 George Newbern
was born 12.10.64 in Little Rock, Arkansas. He and his wife Marietta DePrima both graduated from Northwestern University with Theater Arts degrees. Newbern had a recurring role ("Dr. Scott Frank") in the medical drama series Chicago Hope (1994) and more recently has starred as "Owen Frank" in Providence (1999).
His film work includes Adventures in Babysitting (1987), It Takes Two (1988), The Evening Star (1996), and Friends & Lovers (1999).
Salli Richardson,
born 11.23.67 in Chicago, is the daughter of an African-American mother and Irish-American father. She played tennis in high school and launched her acting career at Chicago's Kuumba Workshop. She has guest-starred in series like Silk Stalkings, New York Undercover, The Pretender and Secret Agent Man, and had a recurring role ("Kim") in Mercy Point (1998). Films include Posse (1993), A Low Down Dirty Shame (1994), Lillie (1999) and Book of Love
(2002).

'I SPY RETURNS' WITH CULP AND COSBY
By Jay Bobbin
Tribune Media Services
TV Week, Jan. 30-Feb. 5, 1994
Back in 1965, Robert Culp already was an established TV Star, thanks to a western called "Trackdown."

Bill Cosby was one of the hottest young comedians in America.

And an adventure series that used the world as its backdrop made them a classic home-screen team.

"I Spy" paired the actors as (respectively) Kelly Robinson and Alexander (Scotty) Scott, undercover secret agents who traveled the globe under the covers of a top tennis player and his trainer.

The on-air result was popular as well as historic, because it established Cosby as the first black star of a weekly U.S. television drama.

Now 26 years after the program ended, the two performers revive their roles and their camaraderie in Thursday's new CBS movie "I Spy Returns" (at 7pm, on WCCO-TV, Ch. 4)

In it, Scotty and Kelly are reunited via their respective children. Kelly's son (played by George Newbern, the bridegroom in the updated "Father of the Bride") and Scotty's daughter (Salli Richardson of "Mo Money" and "Posse") are novice government agents who have been sent to Vienna - by Kelly, now a senior intelligence official -- to ensure the safety of a Russian scientist planning to relocate to the United States. The now-retired Scotty follows them there, resulting in complications that add considerable danger to the mission.

Written by Emmy-winner Michael Norell ("The Incident") the update finds original executive Producer Sheldon Leonard sharing that credit with Cosby and Dave Ginsburg. (Cosby also launches his new "Cosby Mysteries" franchise, in which he appears as a New York City criminologist named Guy Hanks, this Monday (8 p.m. KARE-TV, Ch. 11) on NBC.)

In the course of the three-season run of "I Spy", Cosby won three Emmys, while Culp was nominated three times for acting and once for writing.

Culp said he had some problems with the newest "I Spy" story. "The truth is that Kelly Robinson could not possibly have wound up in a corner office at the Pentagon, which is where this script places him. That's nonsense. He was such a maverick and such an outlaw, especially in his emotional world, that he would definitely have wound-up running guns to the Sandinistas."

Culp said that during filming, "We had a wonderful time, and it shows on screen. The kids are marvelous together, and so are Cos and I. We did the same thing with this that we did with the series, making [dialogue] up as we went along. You just put us in a room and turn a camera on and it starts to work. We were always very close, and we've stayed very close."

In fact, Culp made a guest appearance in an episode of "The Cosby Show," as a character whose name gave a decisive nod to "I Spy": Scott Kelly.

Television devotees -- especially those who were "I Spy" fans -- will recall the show's distinctive opening titles, in which Culp's eyes were visible on the top half of the screen, expressively reacting to the plentiful romance and mayhem being dipicted on the bottom half.

He and Cosby reunited in the 1972 theatrical movie "Hickey and Boggs" (which Culp also directed) but an "I Spy" renaissance has been in the works for quite some time.

"Every three of four years," Culp said, "somebody would come up with the notion of doing a [sequel] movie, but it never happened. It came close to being put together in the early 1980s , but Universal released "The Nude Bomb" [a feature version of the comedy show "Get Smart"] and it was so unsuccessful that it killed any possibility of bringing back any other television show as a feature. Little did they know what would happen in the last five years" with theatrical-movie verisons of "The Fugitive," "The Addams Family," "The Beverly HIllbillies," etc.

In more recent times, according to Culp, "Warner Bros., wanted to do it as a big movie for theaters with Cos and me, and I was going to write and direct it. We developed two screenplays that they hated and they developed two screenplays that we despised, and after two long years, they shrugged and we shrugged and we walked away. In the meantime, [CBS programming chief] Jeff Sagansky heard about it and said, "I want that. Don't let that get away.' Little by little, it finally came together."

Although a new audience may come to appreciate "I Spy" through Thurdays' picture, Culp points out that others have been able to keep watching the initial series regularly. "When we shot this new movie in Vienna last summer," he reports, "the old show was on there every night at midnight."
Review
"I Spy" was a landmark television series on several fronts. First and foremost it is recognized as being the first dramatic television series ever to have an African-American as a lead character. This was the series that introduced Bill Cosby to the world and his effect on the television medium is being felt even today. Secondly, "I Spy" was the first series of the enormously popular spy genre to break the mold. Up until its debut, film and television spies were modeled strictly on James Bond: dashing, debonair, never looses his cool or control of the situation and battles sinister organizations bent on world domination. Cosby's Alexander Scott and Robert Culp's Kelly Robinson often lost control of the situation, frequently doubted themselves and rarely (if ever) battled global organizations. "I Spy" was very conscious of the United States' role in global politics and often questioned it. While "I Spy" did contain humor and witty repartee, at its core was a serious show raising questions about real issues. Finally, it was one of the only fiction series to film in exotic locations around the world. Each season would find our heroes in a different part of the world such as Asia or the Mediterranean. Only nature based documentaries spanned the globe as much as "I Spy."

Jump 25 years to the future. During the late 1980's and early 1990's every show that was remotely popular in the 1960's seemed to require a reunion show. Everything from "Gilligan's Island" and "The Andy Griffith Show" to the series that laid the groundwork for "I Spy", "The Man From U.N.C.L.E." had to reunite as much of its cast as possible to see what the characters were up to today. With Cosby Executive Producing, writer Michael Norell came up with an incredibly lame story that puts two generations of Scott's and Robinson's in the modern day spy game.

Alexander Scott is now a teacher, happily married with a beautiful daughter (Salli Richardson), his past as a spy is blissfully behind him. Kelly Robinson is now the Director of Field Operations for the SSA (Special Services Agency). He is still very much in the spy business, but now monitors it from behind a desk while he encourages his son, Bennett (George Newborn) to continue in his footsteps. Scott discovers that his daughter Nicole has secretly joined the SSA and is on her way to her first assignment with partner Bennett in scenic Vienna. Soon, he and Robinson are playing the worried parents by following their kids on their mission to make sure they are safe. Naturally, their simple assignment becomes a major covert operation with the fate of the world hanging in the balance.

"I Spy Returns" fails on just about every front imaginable. For starters, "I Spy" was serious although our heroes were witty. This film has a very light atmosphere with no real sense of danger for anyone involved. The chemistry between Culp and Cosby (and between Richardson and Newborn for that matter) simply isn't there. There is no spark and the "witty" banter is merely trite. But where "I Spy Returns" fails most is that Cosby and Culp are not the center of the story. They share roughly equal screen time with their kids and rarely do any spying themselves. This isn't "I Spy Returns" in as much as it is "I Spy: The Next Generation."

For first time viewers, "I Spy Returns" is simply a really bad television movie. For fans of the original series, it is a woefully inept look at the sad state our favorite spies are in.

THE DISC:Timed to capitalize on the new I SPY film with Owen Wilson and Eddie Murphy (which looks to be an even bigger slap in the face to fans of the series) and the release of the original series on A & E Home Video, Columbia has dug up "I Spy Returns" for DVD. Presented in its proper full frame aspect ratio nothing appears to have been done to restore the picture as it suffers from a slightly washed out video look inherent in telefilms from the period. Several brief sections even exhibit a poor transfer as the image stutters with character movement.

Surprisingly, Columbia did put a few supplements on the disc, though granted they are not much. A "Photo Gallery" of eleven color publicity stills joins "Filmographies" for director Jerry London and the top five cast members. That's it. Not even a trailer to the new movie, which is kind of a missed opportunity

-- Cinematheque 16 (WUSF-TV)
And another review...
The dreaded and reviled television movie reunion genre was in full swing in the late 1980s and early 1990s, and getting Bill Cosby and Robert Culp to reprise their roles from the groundbreaking 1960s I Spy series fell right in line with our perceived desire to see familiar, slightly older, faces in familiar surroundings. Getting the old magic and chemistry back is usually the difficulty in projects like this, and in most cases the resulting output becomes nothing more than an embarrassing gawk-worthy freakshow.

This 1994 entry has the benefit of the generally likeable Cosby, appearing here once again as Alexander Scott, who has the ability to make all of his dialogue sound like natural, off-the-cuff codginess. In this return, Cosby's Scott has been out of the spy game for twenty-five years, spending his time as a linguistics professor in some picturesque college town. When he finds out his twenty-something daughter Nicole (Salli Richardson) has been recruited by the same secret SSA agency he once worked for, he pays an angry visit to his old partner Kelly Robinson (Culp), who is now Director of Field Operations. It seems that Nicole has been given a simple "milkrun" assignment to keep an eye on a Russian scientist in Vienna, and in a Screenwriting 101 cliché she is set to be partnered with none other than Ben Robinson (George Newburn), the son of Kelly.

I despise unoriginal reunions, and I especially despise unoriginal reunions that feel the need to introduce the kids of the principals, as if we are immediately supposed to have the same level of warmth and familiarity that we do for the parents. I have nothing against Newburn and Richardson, in fact their acting is on par with that of any other insipid television movie. It's just that the reason anyone might have a remotely passing interest in this film is really because of Cosby and Culp, and no one else.

While 90% of I Spy Returns is a dumb, by-the-numbers Cold War spy story, the moments when Cosby and Culp are together are easily the most enjoyable sequences. These old pros bicker and snipe, and are the source of some fairly funny interplay. Of course, any of the fun dialogue has nothing to do with advancing or helping the tired script, but it was moderately entertaining to see these two old war horses argue and gripe about each other.

Possibly the vilest moment in this dull retread was the obscene updating of Earle Hagen's classic I Spy theme, which here is turned into some kind of jazzed up aberration. I liked that director Jerry London used the show's original opening visuals to start his film, but when I heard the redone score I just had to cringe.

-- Digitally Obsessed
and yet another...

"Spy vs. Spy: Cosby and Culp Can't Capture the Old I Spy Spirit"

Whatever nostalgic goodwill one might feel in seeing a reteaming of Bill Cosby and Robert Culp in I Spy Returns (CBS, Feb. 3, 8-10 p.m.) sours early on in this new TV movie. Like lots of people, I remember the 1965-68 I Spy as a cool show in which Cosby and Culp traded murmured hipster barbs while winking at chicks and fighting international bad guys. The plots didn't matter as much as the badinage and the relationship between the heroes. (Cosby was the first African-American to star in a weekly drama series, something that was handled as matter-of-factly as everything else in this offbeat show; indeed, there was a thrill in realizing that friendship, not race, was going to be the central theme of the show.)

I Spy Returns, however, is rather pathetic -- creaky and corny. Instead of shrewd patter, there's a lot of tired chatter about how old Alexander Scott (Cosby) and Kelly Robinson (Culp) have gotten. Like Diagnosis Murder and Burke's Law, Returns offers aging stars who turn the action scenes over to younger actors -- in this case, the luckless pair who must portray Scotty's daughter and Kelly's son (Salli Richardson and George Newbern). These cubs are rookie secret agents, and an aimless plot about a Russian biologist emigrating to America tries pointlessly to reheat the Cold War. Except for the devilish twinkle in Culp's eyes, there's very little that will remind you of the pleasures of the original I Spy. [C-]

Ken Tucker, Television Source (Time, Inc.), 4 February 1994